Anchor
Rock in Taichung 2016/ Future Forest Music Festival
Posted Date : 2016-11-15
4474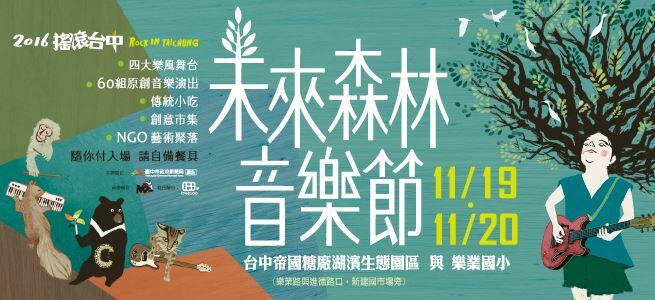 Rock in Taichung 2016 is a diverse music festival that includes not only rock music but ballad, hiphop, electronic and more. Four main stages, large and small alike, feature different styles of music and artistic landscape. The most distinguished stage among all locates in the nearly 70-year-old Le Ye Elementary School around the sugar mill. Come enjoy music on the beautifully green meadow on the friendly campus of Le Ye!

Date: 2016 / 11 / 19- 20 Saturday& Sunday
Time: 12:30~21:30
Location: Taichung Empire Sugar Factory Lakeside Ecological Park and Le Ye Elementary School (Leye Road and Jinde Road intersection, next to New Jianguo Market)
Admission: There are two stages that are free and two pay-what-you-want stages.
Pay-What-You-Want: All visitors can pay whatever amount of money for admission based on how they value the event and what they can afford.