Anchor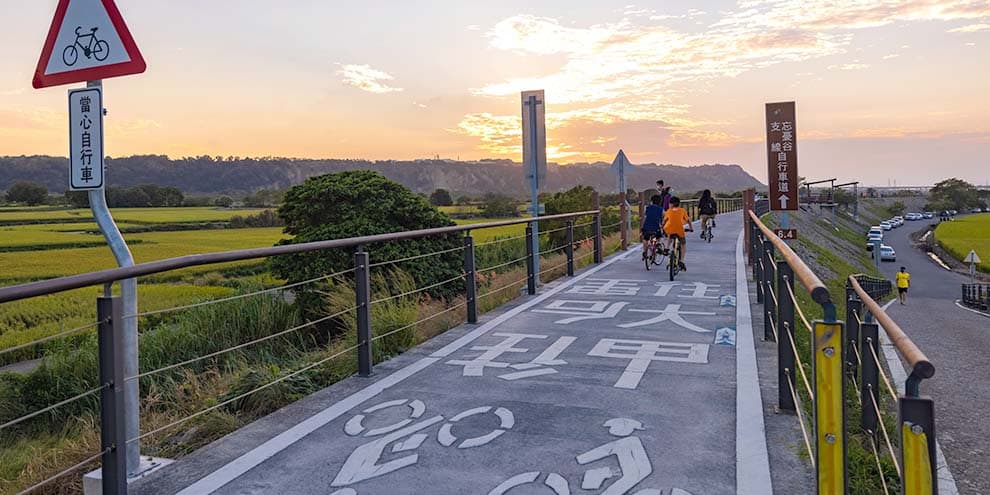 Introduction
Location
Dajia District, Houli District, Waipu District
Themes
Mountain Route, Coastal Route
Height above sea level
47~272m
Route highlights
Starting Point:The intersection of Jianggong Road and Jingguo Road Ending Point:Taian Railway Station
In addition to the main line, Jiahou Line Bicycle Path has the Liufen Road branch and Wangyugu branch. Visitors can select the different branches by following the signs on the way.
Jiahou main line is about 16.97 kilometers, going along Jiahou Road. There are many scenic spots along the way, including Taian Railway Park, Zhenlan Temple, Tiezhan Mountain, and Lihpao Amusement Park.
Liufen Road branch is about 5.63 kilometers in length. Along the route, visitors find the wine production region of Taichung. There are many wineries where visitors can enjoy a romantic feast under the grape vines and taste the seasonal wines.
Wangyugu branch is about 12.6 kilometers in length, including a 2km-long path on the embankment. The end point connects to Yuemei Tourism Sugar Factory. Along the route, there is mostly farmland and natural landscape. The magnificent flower fields and the red sunset are the two major features of the Wangyugu.
Pre-trip preparation
It is recommended to bring drinking water in personal bottles.
It is recommended that you bring sunproof clothing, hats, and handkerchiefs in summer, and windproof jackets in winter.
It is recommended to wear shoes that are easy to move and exercise in.
Suitable for
Parent-child
Couple
Friends
Elderly
Cyclist
Highlight category
Bike around Taichung, and enjoy the outdoors.
Services
Cycler's station
Parking
Toilets
Bike rental station
Information
Vistor tips
Scenic spots of diverse features are in the surrounding area, such as Dajia Zhenlan Temple, Tiezhen Mountain Scenic Area, and Yuemei Sugar Factory. Visitors can plan as many individualized itineraries as they can think of.
The starting point is near Dajia Railway Station, making it easily accessible to public transportation.
Notice
The ride is long, so you are recommended to consider the required time and your physical strength.