Anchor
2022 Taichung Hot Spring Festival
Posted Date : 2022-04-20
558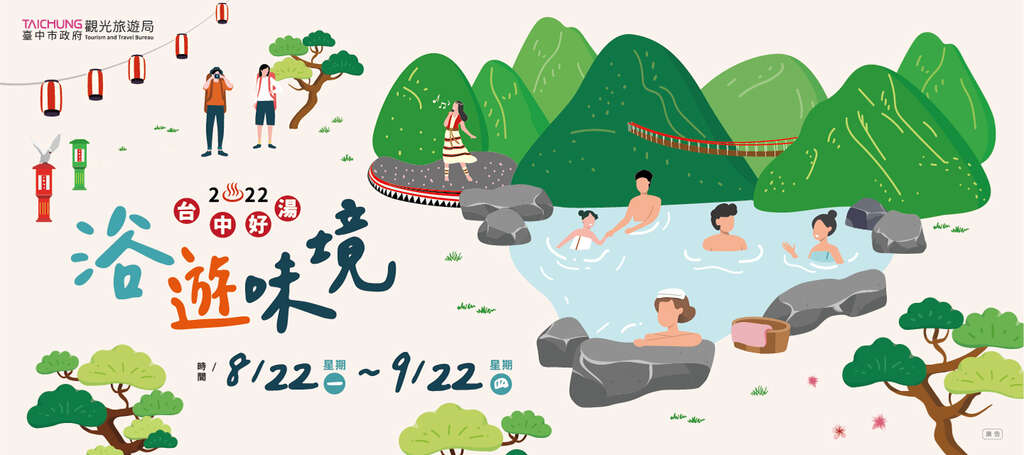 Activity Time

2022-08-22~2022-09-22
2022 Taichung Hot Spring Festival

Taichung has top-quality hot spring water in Guguan, Dakeng, Dongshi, Wuri, and Houli.Tourism and Travel Bureau, Taichung City Government will launch Taichung Hot Spring Festival between August 22 and September 22.

▶ 2022/8/27
A series of art performances, activities, and markets will take place in the square in front of Taiwan Power Company's boarding house in Guguan. A number of performing groups, including Nishikawa Sumin of Odori Tomoie, AmuBwiy Puing Culture Arts Group, Radiw Raliw, Rock Warner Band, Ling Tung University's "Senior University – Rhythm Travel Agency", and Yushan Senior High School's Taiko drum team will attend this grand event. Besides, visitors who make an on-site purchase with a specific amount will receive a "Japanese Wagashi (traditional Japanese sweet)", "Aboriginal DIY experiencing activity" or "a try in claw machine game" at choice; if the purchase amount has reached another specific amount, the purchase will be gifted with a try on "Fun Japanese Ritual Game – Color Ball Fishing". In addition, free Taiwan white pine juice will be offered on site as well.

▶ 2022/8/25-2022/8/28
A joint mountain village sightseeing campaign will be launched. Visitors who take a ride on a hot air balloon in Shigang will receive a free hot spring bath voucher, which is offered in a limited quantity.

▶ 2022/9/10
Beautiful flowers, a full moon, and a celebration of the Mid-Autumn Festival with a special gift! Visitors who stay in a hot spring hotel that joins this campaign and complete the mission will receive a souvenir of Taichung! The souvenir is offered in limited quantity only!

▶ 2022/8/22-2022/9/22
Hot spring operators have launched the "Cool Summer Hot Spring Hotel Discount Program". For detailed information, please dial the book service hotline of hot spring operators and refer to their respective announcements.

During the activity period, you will find a cultural and creative lantern installation art standing at Guguan Hot Spring Square. The Guguan hot spring alley that sets off against the mountains and forest is decorated with Japanese-style lanterns specially designed for the hot spring festival to create a unique warm atmosphere. Let's relish the Japanese-style hot spring street of Mingzhi Old Street! All visitors are welcome to visit Guguan and check in on social media to share and remember this beautiful moment.

We sincerely invite you to come to Taichung to have a hot spring trip of happiness, enjoy the local delicacy, relish the natural landscape and visit around its beautiful mountain villages!